We've walked in your shoes...
---
We may be the new kids on the block but that does not mean we are a bunch of amateurs, quite the contrary in fact. Each member of our staff has no less than 5 years experience as a credit counselor. So basically we have put in place a group of professionals that not only know the credit industry but more importantly, can truly empathize with your situation. What prompted many of our staff members to seek employment as a credit counselor is their own experience. That is to say, "they have walked in your shoes." This is an important component in not only helping you with your situation but also truly understanding what you are dealing with.
---
We do not use high pressure sales tactics but have a rather simple philosophy of presenting you with all the facts and letting you make the decision. We do not omit information, or paint a picture that is too good to be true. No, you will be given 100% honesty or as we like to say, " THE GOOD, THE BAD and THE UGLY." There will be no surprises as we prepare you for every possibility, whether it be good or bad.
Robert - Credit Counselor
My own experience with overwhelming debt is a good example. In 1997 I was married with two children. I lost my job and the downward spiral started. Like many people, I had two car payments, 2 car insurance policies, rent, food, utility bills and not to mention 8 credit cards I was trying to manage. Within 5 months the situation had gotten so bad I opted to file bankruptcy. BIG MISTAKE. That decision followed me around and created problems for me for many more years than what you are told. It kept me from getting certain jobs and always cost me greatly with higher interest rates on any new credit I obtained. Well I would like to say that is the end of the story but it is not. In 2007 I ended up divorced and was given the burden of all our marital debt. This would include not only child support but all the new debt my ex-wife and I accumulated. Car payments, credit card debt and anything else deemed debt by the judge. It did not take me long to start drowning and gasping for air. This time I opted to use a Debt Settlement program because a close friend who worked for one of the better known DS companies took my hand and walked me through it. Yes, it was a bumpy road the first 6 months but then it all started to even out and I truly started to relax and breathe easier. Soon after that I applied for a job with my friend's company and have never looked back. Oh, and by the way, I have not had a credit card since 2007 and do not in any way, shape or form miss having one.
Mario - Credit Counselor
The average household has about $15,310 just in credit card debt and holds about $132,089 in total debts that include Credit Cards, Mortgages, Student Loans, Taxes, Car payments, Hospital bills, Payday Loans to name a few. I've firsthand seen how debts can tear up a happy home and make the people living in the household miserable, my parents went through some rough times in the early 2000's when the company they had been working for over 16+ years started laying people off as they were moving operations to Mexico. Both my parents having car payments, a mortgage, credit card debt and 1 kid in school they started to struggle…it was just a matter of time before they started to fall behind on their credit card payments making their interest rates go up along with their monthly payments. My parents bounced back and got jobs one at a time but their debt had grown and credit cards had reached their limits. They were still borrowing from Peter to pay Paul (pay the credit card, use the credit card) still making late monthly payments from time to time not making any head way as most of their monthly payments was going towards paying the high interest rates and not the balance. A friend of the family directed my parents to a company that specialized in what is known today as Debt Settlement, one of many debt relief options available to people that find themselves in a financial hardship, my parents had been considering bankruptcy and this was a great alternative as they did not want to file BK. It took 3 years and some months for my parents to become debt free after owing over 29k in credit card debt. Late in life as destiny would have it, I ended up working for one of the Top 3 debt relief companies in the US for almost 4 years and now I'm happy to work at Debt Leap helping people realize the same dream my parents accomplished, helping them become debt free.
---
Have a question? Talk to our expert.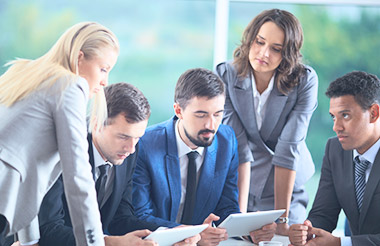 This story can be repeated by many of our staff members. It is an indication that regardless of your level of education or back ground, debt can take its toll on anyone.
So if you are looking for help with overwhelming debt and appreciate honesty above anything else and want someone who can truly understand your situation, please give us a call.
Debt Relief Options Include For:
Credit Cards
Personal Loans and Lines of credit
Medical Bills
Collections and Repossessions
Business Debts
Certain Secured Debts*
IRS Debt and Back Taxes
Our Company
Our team has a sincere passion to help every client, it's more than a job for us. It's a chance to help thousands of people live debt free.
From the first conversation you'll experience the difference that has brought us countless referral clients and we look forward to serving you with excellence.
Read more
Results in Writing
Countless of result letters and savings for thousands of clients. We are happy to show you our track record of the thousands of dollars in savings we've helped our clients achieve.
Contact us Today for your Free Savings Consultation
---